Sun, December 15, 2013 at 16:22
Trying to find your passion when you speak? Getting stoically stuck? Try speaking about your passion(s).
With your passion identified, how can you speak passionately? You can start by listening to others. One other person who speaks passionately is Sister Wendy, introduced to us by one of our alumni, the
inventor artist Darcy Whyte
.
Sister Wendy (Beckett) is a Roman Catholic hermit and consecrated virgin in Britain who became widely known in the 1990s for presenting a series of documentaries on the history of art for the BBC.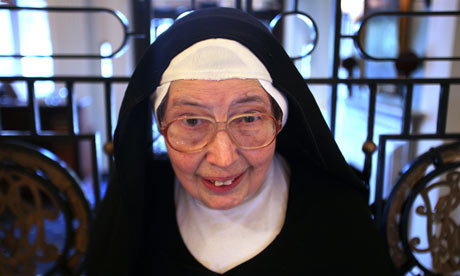 She says of her television work, "It's right that I should do it. It's just not a thing that I would have ever wanted to do."
Don't just watch these videos passively. Study them. Listen for the passion.
What words and word sequences does she use?
How does she phrase, pace, and pause?
How does she emphasize words by increasing the volume and stretching syllables to carry the meaning of the sentence?
How does she look at the camera as if you and she were in the gallery together, alone, enjoying the art?
Sister Wendy in Conversation
In this interview, we find out more about Sister Wendy's character and charisma.
Interviewer Bill Moyers: "You didn't have a script?"

Sister Wendy: "No, I don't feel it's right to have a script, because the spoken word is different from the written word."

Bill: "And you just stepped in front of the camera and talked?"

Sister Wendy: "Yes. When I started, they'd say, 'What are you going to say,' and I'd say, 'Wait and see.' 'Well can't you give us some hint of what you're going to say?' 'Oh no, that would spoil it. That would take the edge off, if I'd done it once.' and I didn't know that I was asking them to [accept] a good act of faith."
Ever think you (and everyone) had to rehearse before speaking? Now you have new evidence, new evidence that it is possible to speak eloquently and passionately, without rehearsing, by speaking from your knowledge and passion.
Post a Comment
|
Categories:
Speech Delivery,
Voice